There are only 2 rooms in the house that we haven't painted yet, the Living Room and the Dining Room.  Since they are adjoining, they need some sort of coordination in my opinion.  The problem is with the way the rooms are setup.  The Living Room as 2 big doorways (1 to the dining room and 1 to the hallway) on 2 walls, and 1 wall is a big window, leaving us with 1 plain wall to work with.  We've had a sofa against it and a chair in another corner and we'll keep the same look.  The current furniture though, is just not my style, it's much more 'cushiony' then I like.  There is nothing about this room that screams 'Lauren's style'!  It was just everything that came from the apartment that didn't fit elsewhere.  Since we weren't sure what we were going to do with the room we just put the stuff in there for now.
Personal Photo
It's now 3 years later and it's time for a makeover.  Last weekend we tackled the task of finding a new sofa and chair for our living room.  I should mention, that I am picky!  I don't like to put it that way though, I just like to say that I know what I want and what I don't want.  That sounds much better.  We started with looking for a patterned chair.  If you remember from my clothes post, I tend to stick to solid colors and no patterns, and the same falls true for decorating my house.  I was determined we were going to get some sort of pattern in that room.  We started with a trip to Target where I had seen some patterned chairs that I liked there.  In the store we saw this chair and decided that we were going to get this one:
The real task was finding a sofa and chair for the room.  There is one main street that has a minimum of like 6 furniture stores, no lie.  We visited a few of them but nothing was really what I wanted.
Some were too light, too 'cushiony', and not clean enough lines.  For some, friends had bad experiences with their furniture sagging.  Some were too expensive and one store I refuse to visit after 2 bad customer service experiences with them.
The top contenders: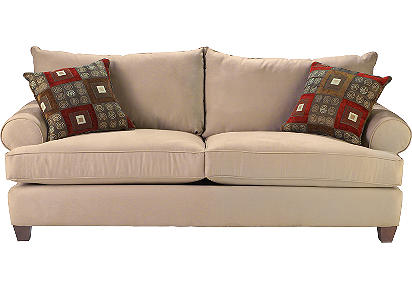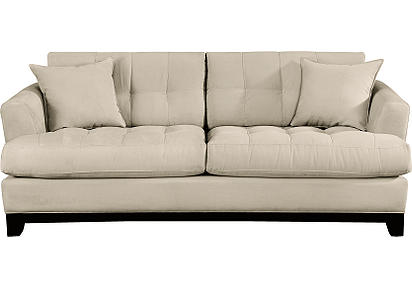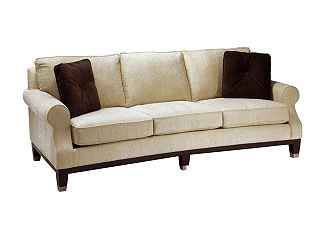 It was a trying day.  (Did I mention that I'm picky?)  I decided to search online, on my phone, while we traveled between stores and I came upon this chair at Target.
I loved it. We hadn't purchased the original chair yet and I was glad, this one changed my mind.  I definitely wanted this one instead.  Now only if I could find a sofa.  Suddenly I remembered that JCPenny has furniture in some of their stores and online.  That's when I found this beauty from the Napa collection:
and its matching chair:
They fit all of my criteria.  I was skeptical about ordering them because I hadn't actually seen them in person.  We made our way to one of the larger local JCPenny stores but they didn't have any in stock.  In the end, after much deliberation, we took the plunge and ordered them (in a lighter color).  Despite the high delivery fee ($225, Yikes!) and the fact that we hadn't seen them yet they fit all of our (my) criteria and we both liked them.  Now we're in wait and see mode as it takes 4 weeks for them to arrive! (Enough time to paint the walls,  shampoo the carpets and try to sell the old furniture)
The next day we got online to order from Target because it was 15% off if you spent $125+ and free shipping.  It was definitely cheaper to do that then to purchase in store.  Only one problem, the chair (the bottom one) was out of stock.  So frustrating.  In the end we went with the original choice and ordered the striped chair.  It arrived and it's great, I love it.  Then I was online today, and noticed that the other one has become available again.  Now what do I do?  Order it and return the striped one?  Stick with the striped one?  We didn't have any shipping costs or anything so that's not a problem.  I'm not usually a person to order things I haven't seen.  I hate ordering items online because I want to see them first and make sure the material is nice and that they're going to fit.  I hate bringing things back to the store.  I still haven't decided what to do.
We still had a dilemma of tables.  Looking at the picture of the room as is, a coffee table is too big for such a small space.  I like the 2 Leather Ottomans look on Young House Love (Living Room – Halfway down).  We looked around and ended up ordering two of these from Target.  They arrived, they look nice and I think they will fit in great.  KC has trouble picturing things so I think he's still skeptical.
We'll be spending the weekend painting this weekend.  We're still in search of window treatments and what do to about side end tables (1 on each side of the sofa or just 1 on 1 side).  On the plus side, we did find some 'wall art' for over the couch which tends to be my biggest problem when I'm redoing a room.  Our bedroom went for a year with nothing on the walls, awesome.
Why is decorating so hard?  Has anyone else bought furniture from JCPenny or any other store on-line without seeing it first? I wish I could hire a decorator to do it all for me!